Posted on 22. Dec, 2009 by Administrator in Fashion, Film/TV
by Amber Hubert
photos by Robert Todd Williamson

Chris Colfer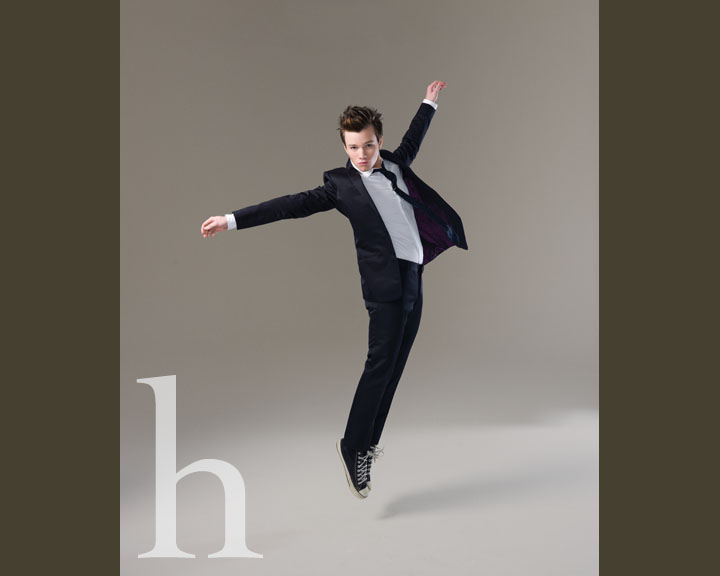 styled by Jenny Ricker
groomed by Jenn Streicher
art direction by Laura Ann
Chris Colfer doesn't want to disappoint his fans but unlike the lovable and fashionably adventurous character Kurt he plays on Fox's hit show Glee, he won't be caught parading around town in a translucent Dolce and Gabbana raincoat. It's way more likely you'll spot him shopping at the Beverly Center, enjoying some of his favorite stores. "I don't have a lot of preference when it comes to designers but I love Banana Republic, Express, and Ben Sherman."  Chris insists that Kurt's wardrobe definitely helps him get into the role. "Kurt's clothes are 25 to 30 percent of his character. I'm much more of a T-shirt and jeans kind of guy but I try to keep my fashion a notch above casual.  The wildest thing I have in my closet is a pair of pink suspenders. I don't even remember where they came from!" Chris may not have a lot of fashion rules but if he were the fashion police, rolling up your jeans and wearing shoes with no socks wouldcost you a heavy fine.
What's the hardest thing Chris has had to wear while playing Kurt?  A Gucci sweater!  "We were singing and dancing all day. I swear I lost 10 pounds in that thing!" Chris is very into matching and almost always wears blue. "Sometimes I wear green or red to try to mix it up, but blue is my favorite color." He's very excited about fall fashions and loves scarves and jackets. He has an impressive collection of wristbands, or as he admitted adorably, "I won't lie, they're bracelets." He wears them every day, along with his favorite pair of Banana Boat boots. "They're very Industrial Revolution-esque."
When he's not shooting on the Glee set, he's going out with friends, watching movies, or catching up on sleep. Many of the cast members go out for sushi together once or twice a week. Ocassionally, Chris may have to indulge a group of screaming girls in an elevator, asking for autographs and pictures but with the success and growing popularity of the show and Chris' immense talent and charming personality, those types of interactions are sure to be increasing. Chris may be more of a jeans and T-shirt kind of guy but his sense of humor and generosity of spirit definitely make him way more than a notch above casual.
Be sure to check out Glee: The Music, Volume One, available now to listen to all your favorite songs from the show. You can even pre-order Glee: The Music, Volume Two.  If you haven't seen Glee, catch up on www.hulu.com and of course don't miss it Wednesday nights on Fox.
Related Posts