Posted on 02. Apr, 2010 by Administrator in Film/TV
by Todd Gilchrist
Rating:





Although I steadfastly don't believe in writing reviews as some sort of consumer service, the most important thing I have to say about Clash of the Titans is do not see the film in 3-D. Part of the motivation for my plea, admittedly, is to save you the extra money 3-D presentation costs; but mainly it's because the film was not originally shot in 3-D, and it looks absolutely terrible retrofitted after the fact in 3-D. All of which is why plain-old two dimensions is more than satisfying presentation format if you're at all interested in Clash of the Titans' otherwise perfectly uninspiring, generic-blockbuster thrills.
Sam Worthington, a serviceable actor who still hasn't carried any movie distinctively enough to deserve A-list stardom, plays Perseus, the bastard son of Zeus (Liam Neeson) who is raised by a hardscrabble mortal fisherman named Spyros (Pete Posthlewaite). When Hades (Ralph Fiennes) more or less inadvertently murders Spyros, Perseus vows revenge, and is granted an unexpected opportunity to carry it out when he is recruited to kill the Kraken, a monstrous beast that threatens to destroy Argos, the epicenter of mortal civilization.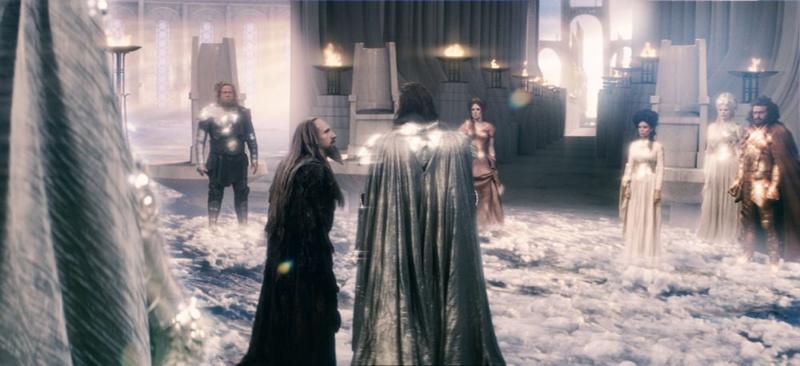 Embarking on a perilous voyage that pits him against giant scorpions, supernatural gorgons, and the deformed minions of deranged gods, Perseus comes into conflict with mankind's creators, in the process discovering what it truly means to be human.
As a former fan of the original (I loved the '81 Clash as a kid but was bored by it as an adult), I don't have much loyalty to the source material, but director Louis Leterrier updates it in only the most perfunctory, unsurprising ways: double the special effects, quadruple the action and half the story. Other than Perseus' occasional rancor about being born from the loins of a God, the new Clash is a remarkably dispassionate affair, jogging uninspired from one set piece to the next, and culminating in a climactic battle that unfolds exactly as you might expect.
That the poster and TV ads spoil the excitement of discovering his (literal) biggest foe, the Kraken, is a testament to the film's play-it-down-the-middle appeal, but there's not one hair out of place on this hero's journey from start to finish, and that quickly becomes tiresome even if you just want something to accompany your latest purchase of overpriced popcorn.
But then again, there are those who will duly be satisfied by such averageness, such pedestrian obviousness, which is why everything has been sanded smooth and welded together into such a seamlessly conventional whole. (Still doesn't explain why an actor as good as Ralph Fiennes appears to be playing his character as if he's doing an impression of Rob Zombie re-enacting Richard Harris' performance from Gladiator, though.)
Regardless whether your hopes were for a riveting, fantasy-filled two hours at the theater or just something to superficially pass the time until the frivolity of summer, however, there is no doubt that Clash of the Titans was originally a film made in 2-D, and it looks best in 2-D. Because if the filmmakers aren't going to bother with creating three-dimensional characters on the page, there's no point in watching them try to fake it on screen - especially since the ones in Clash of the Titans have all of the depth of a pop-up book.
Related Posts