Posted on 23. Apr, 2010 by Administrator in Film/TV
by Todd Gilchrist
Rating:






It speaks to the general disposability of action movies that I am unable to immediately remember more than a handful released in the last decade. Ironically, I feel as if I've seen all of them, and yet, The Rundown time and again is my go-to choice for one of the best, thanks to its effortless condensation of '80s buddy movie tropes, contemporary action set-pieces, and of course the indefatigable charisma of Dwayne "The Rock" Johnson. And it was this film I immediately recalled when I sat down to watch The Losers, which, although cowritten by The Rundown's director Peter Berg, is by no means the same movie. Rather, it takes the charm and energy and fun of Berg's film and reboots it in a new context, creating a lighthearted adventure that counts as some of the most fun you're likely to have at the movies this weekend – if not all year.
The film stars Jeffrey Dean Morgan (Watchmen) as Clay, the leader of a group of government operatives who already call themselves the Losers even before they are betrayed by a CIA superior named Max (Jason Patric) and forced to destroy their real identities. Roque (Idris Elba) and Cougar (Oscar Jaenada) are reasonably happy living on the lam, but Jensen (Chris Evans) and Pooch (Columbus Short)left family behind, so when a mysterious woman named Aisha (Zoe Saldana) offers them a chance to get revenge on Max and reclaim their lives, the group jumps at the chance. Unfortunately, the group soon discovers that Aisha has plans of her own, and has recruited them to help her in addition to themselves, ultimately pitting the Losers against relentless government forces – potentially turning them against each other – as the authorities close in on them.
The truth is that ensemble movies usually seem to really be about one or two stars surrounded by a bunch of supporting players. Not so in The Losers, where Evans and Short steal virtually every scene in which either of them appears, and Elba proves to be a formidable counterpart to both Morgan's perceived leadership and Saldana's commanding intelligence, not to mention sensuality. What's more remarkable is that the film doesn't simply give each character a scene of their own - a single-serving showcase of a particular actor's talent; rather, the script by Jamie Vanderbilt gives all of them something to do at once, and then director Sylvain White effortlessly combines the various personalities on screen in order to create the most effective – be it dramatic or purely entertaining - combination of fun and suspense.
Meanwhile, as Max, Jason Patric has never been this loose, fun, or commanding as he is her, channeling Warren Beatty as he turns an empty stare into a terrifying showcase for his character's jet-black heart. And again, it's Vanderbilt's script which provides so much of the raw material, and the actors' individual contributions which strengthen the impact of everyone's performances. But Sylvain White's direction is what really brings these different elements together and creates something truly enjoyable. The director's previous film was the criminally-underrated dance movie Stomp the Yard, and like with that film, he finds the visual and thematic flourishes that are often buried in such conventional storytelling formulas and fleshes them out into substantive explorations of, well, if not necessarily political or intellectual ideas, then at the very least more emotionally meaningful conflicts.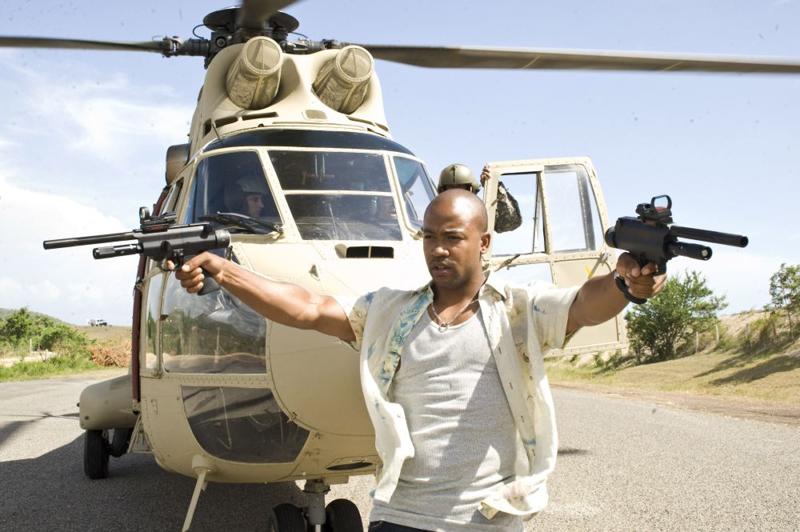 Ultimately, to say that The Losers succeeds at being entertaining without necessarily trying to be more isn't damning the film with faint praise, it's a statement of fact. As White continues to find his footing directorially, this is the perfect vehicle for him to expand the distinctive visual style he's brought to his previous work, while introducing different elements of storytelling and character development that he hasn't tackled before. For audiences, meanwhile, it's not a frivolous, but it is featherweight, and a hell of a lot of fun. In which case, The Losers may or not become one of the few films that you remember when recalling your favorite action films, but if any of the above sounds like the type of movie you would typically enjoy, it's worth running down at least once.
Related Posts